Year 7 Disco Party!
Published on 04/12/17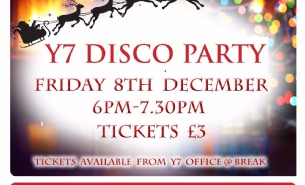 The Year 7 Disco Party takes place this week, on Friday 8 December, from 6pm to 7.30pm.
Make sure you get your tickets now - available for just £3 from the Year 7 office at break time.
Everyone who buys a ticket will be entered into a Free Prize Draw - to win a mystery prize!
All proceeds will be used by Silverdale Parents' and Teachers' Association (PTA) to support the school.