Maths Puzzle of the Week
Published on 20/11/17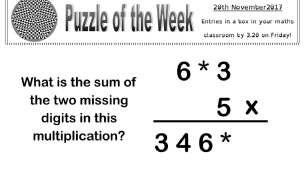 Well done to last weeks winner, Jimson Wong in Y8!
Try our weekly Maths puzzle of the week. Pupils can put their solutions into the boxes at the back of each Maths classroom for marking.
Click on the attachments to see this week's puzzle and last week's solution and winners.